CarDAQ-M

®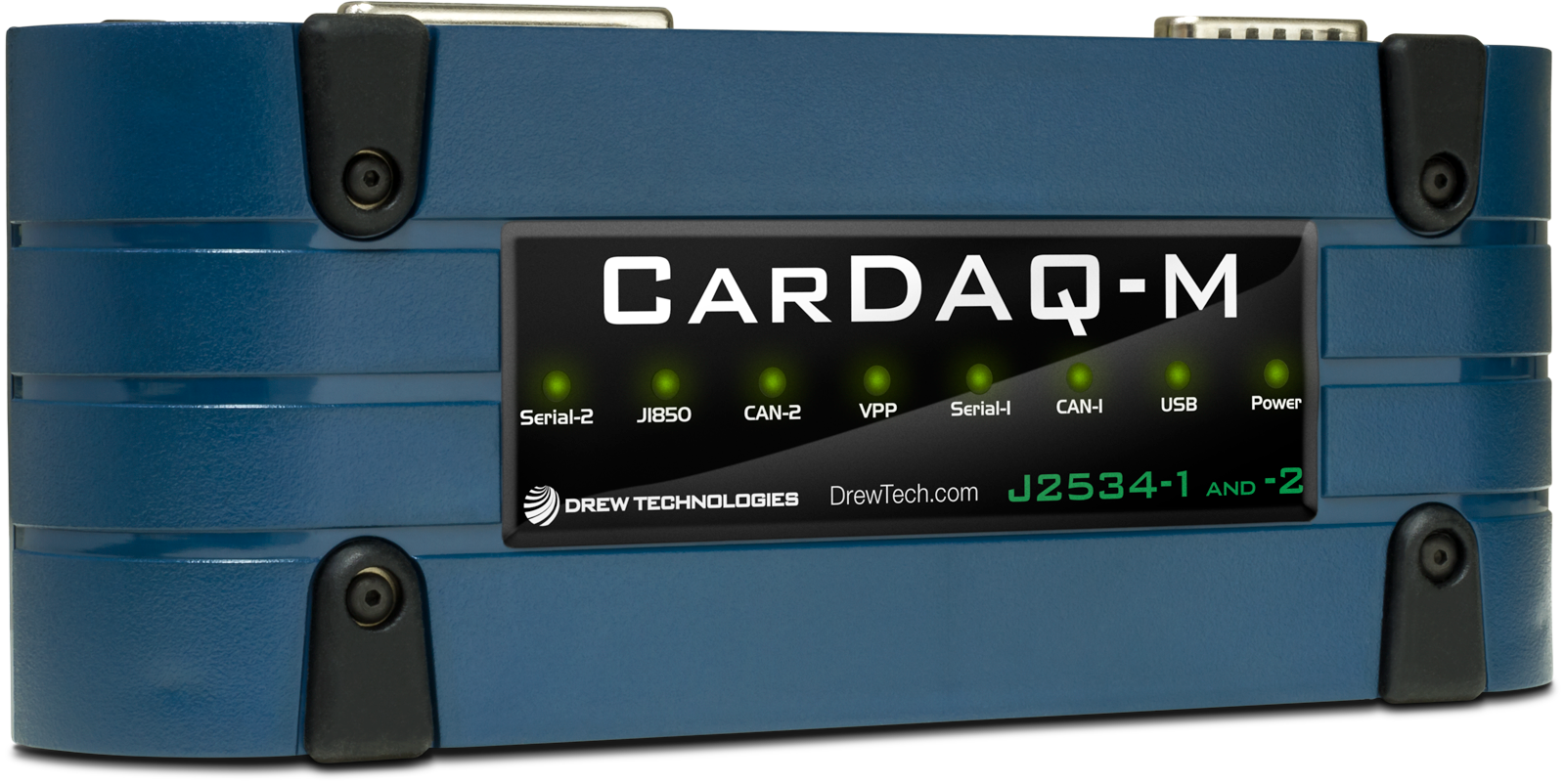 The CarDAQ-M® provides complete SAE J2534-1 and J2534-2 capabilities as well as functionality for all vehicle makes and models. The CarDAQ-M® provides a unique twist to the growing technologies in the automotive world. The "M" in CarDAQ-M® stands for "modular" meaning this product evolves with technology as it is introduced to the market. If a given OEM releases something new that we at Drew Technologies cannot implement with a software or firmware modification, we will create another device that will simply connect to the existing device and "add-on" that new functionality. OEM-level Engine, Transmission and Body Control Module Reprogramming, and Dealer-level Diagnostics are available to you. Order now to increase your capabilities and be recognized as a leader in complete vehicle repair.
For details on the CarDAQ-M®, click HERE.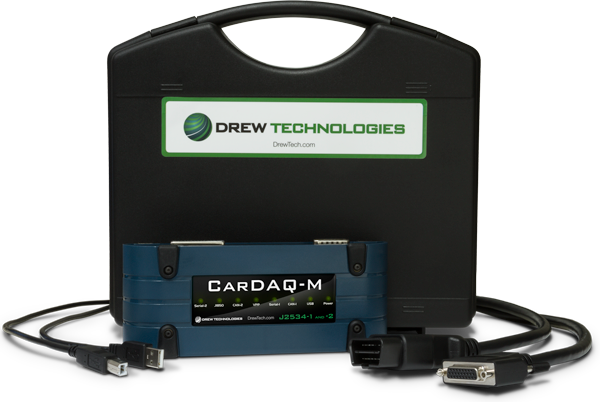 CarDAQ-M® Kit
Part#: CDM-KIT
CarDAQ-M® device, Vehicle cable, USB cable,
and Quick Start Guide.
Price:$1,895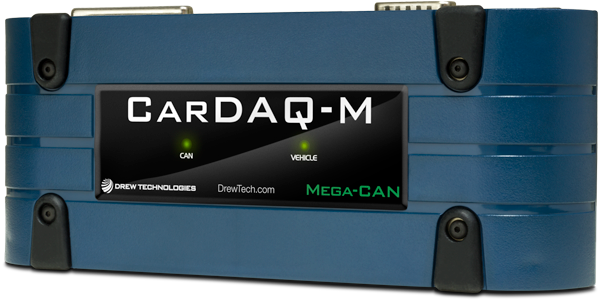 Mega-CAN Add-on Module
Part#: CDM-Mega-CAN
Adds 1 CAN Channel for future vehicles. R2R FCA Required*.
Price:$399.00
*Vehicles that Require the Mega-CAN
2015 Jeep Renegade / Fiat 500x
2016 Jeep Renegade / Fiat 500x
2017 Jeep Renegade / Fiat 500x / Fiat Spider /
The All-New Jeep Compass / Alfa Romeo Giulia
2018 All North American FCA Vehicles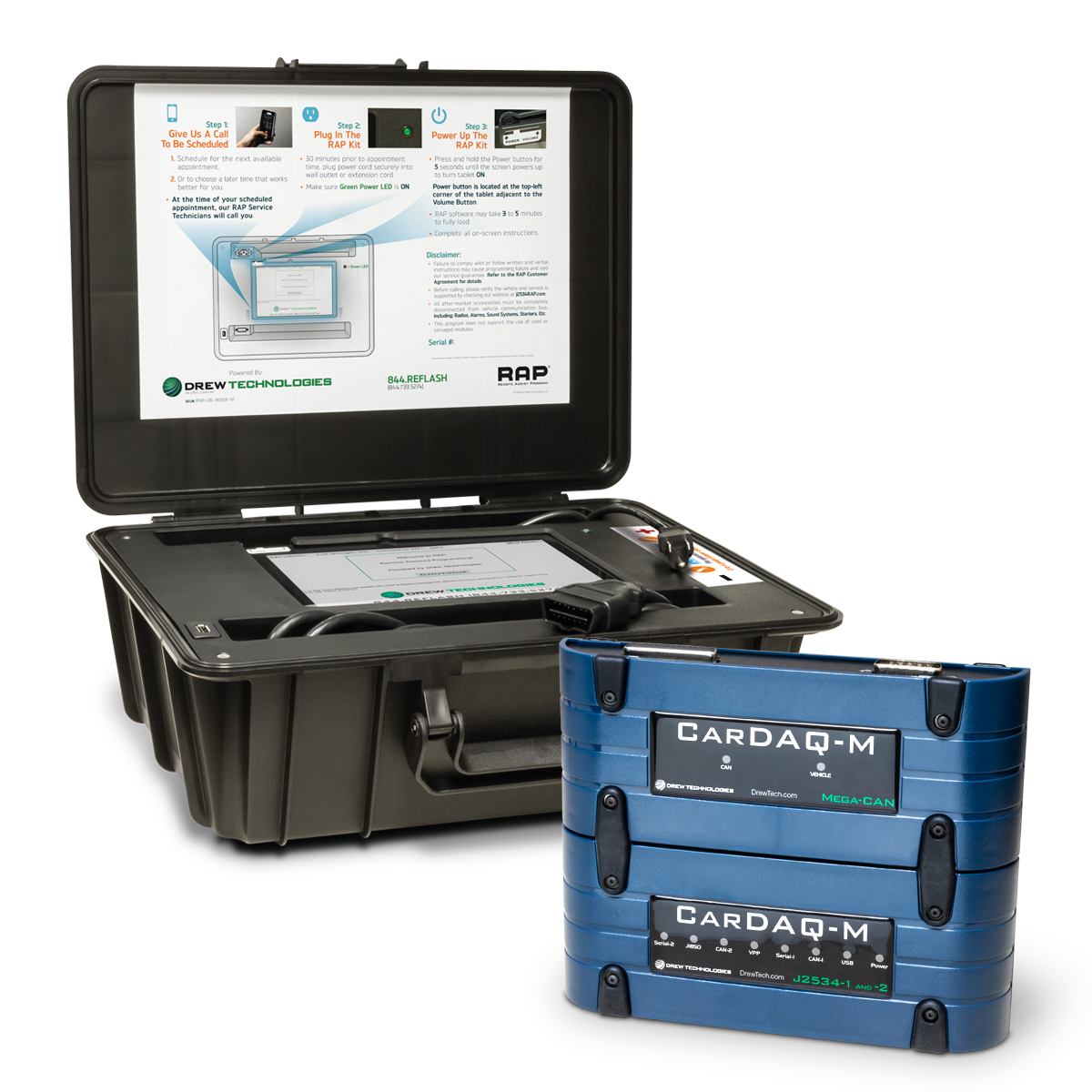 RAP®2/CDM®-MC Combo
Part#: RAP-CDM-MC-COMBO-KIT
Combined excellence, Complete solution. Includes RAP®2 Flash kit with 3 FREE flashes and CarDAQ-M®-MC Kit.
Price: $2,525



Additional Product Information
CarDAQ-M Reprogramming:
• CarDAQ-M is a high performanceJ2534-1 product for reprogramming. Use the OEM's software to do J2534 reprogramming with ALL makes
• CarDAQ-M offers extra J2534-2 support that expands reprogramming beyond just Engine/Trans support for Ford, GM, Toyota, Volvo, BMW, and some others
• Technicians can use CarDAQ-M for Security Key systems/programming on Ford, GM, and Toyota vehicles.
J2534 OEM Diagnostics:
• Using the OEM's own software, CarDAQ-M can do factory diagnostics with BMW ISTA, GM GDS2 & Tech2Win, Honda HDS, Toyota Techstream, Volkswagen/Audi ODIS and Volvo VIDA
• As J2534 continues to grow, the number of OEM's offering a factory diagnostic solution will also grow.
Technical Support:
• DrewTech offers free telephone and email support for all of its J2534 products. When you need help, call on our experts that use and support reprogramming every day
• In addition to Support, DrewTech offers its users videos, FAQs, support aids, and other online technical support thru the J2534 Tool Box 3 included with each CarDAQ-M, free for the life of the tool!

Product Specifications
Bus Protocols:
• CAN Bus (capable of ISO 15765, GMLAN, J1939, and ISO14229)
• 2nd CAN (Dual or Single Wire)
• Ford SCP (J1850PWM)
• GM Class2 (J1850VPW)
• KWP2000 (ISO9141/14230)
• Chrysler SCI (J2610)
• And more!
PC Interface:
• USB version 1.1 or higher
Other Information:
• Compliant to SAE J25344(Feb 2002) and SAE J2534-11(Dec 2004)
• Compliant to ISO 22900-11MVCI physical layer
• Programming voltage on J1962 pin 6, 9, 11, 12, 13, 14, or Aux
• Ground pins 9
Operating System Compatibility:
• Supports Windows Vista (32/64-bit), and Windows 7 (32/64-bit)), Windows 8 (32/644-bit), Windows 10 (32/64-bit).
• Consult OE website for their PC requirements
Product Specifications:
• Operating voltage: 7 – 26 Volts
• Size: 1.25"H x 7.5"D x 5.25"W
• Operating Temperature: Commercial Range (0 C to +70 C)
• ISO22900 Compliant for GM's Tech2Win software

For more information, contact our Sales team at 877.888.2534 (option 2) or email sales@drewtech.com.
Office hours are 8:30 - 6:30 EST Monday - Friday.