DoIP Simulator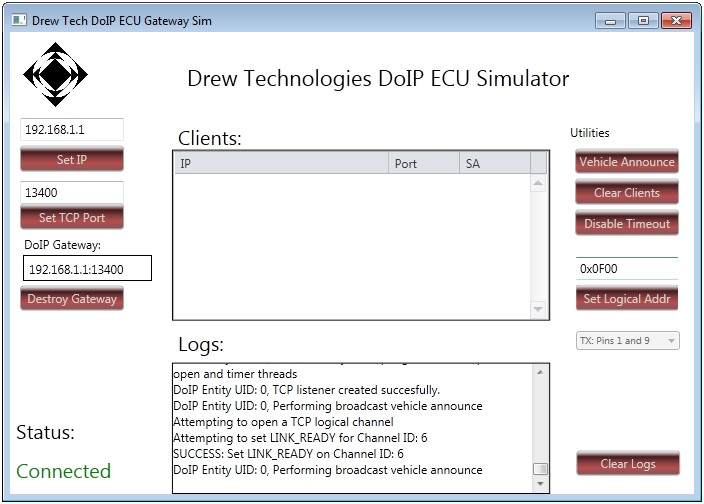 Drew Technologies is proud to present the world's first DoIP Gateway Simulator, which implements the requirements specified in ISO 13400-2 in a user-friendly, easy to use, graphical application. The simulator provides all the functionality of a DoIP Vehicle Gateway, including Vehicle Identification, Socket Management, Routing Activation, Alive Checks, Diagnostic Power Mode Status, and Diagnostic Messages.
Its IP endpoint can be set to any valid value, and the simulator uses the J2534-2 v0500 CarDAQ-Plus 2 network functionality for all communications. The logical address of the Vehicle Gateway can be set to any valid value. Up to five concurrent DoIP Entities can be actively connected over TCP to the simulator, and the simulator implements all the timeout and alive check requirements specified in ISO 13400-2. To aid testing and development, timeout enforcement can be disabled and enabled on the fly. Clients can be disconnected at any time, and the simulator can broadcast Vehicle Identification Responses across the local network with a single click of the button, along with automatically responding to Vehicle Identification Requests. The simulator validates all DoIP messages received and sends a NACK or closes/removes a socket from its client table depending on the scenario, as specified in ISO 13400-2. The user interface provides visual feedback of all client connection attempts (remote IP, remote port, logical address if they have successfully performed routing activation), along with detailed on-screen and file-backed logging.The simulator supports multiple sets of pins – TX on 1 and 9, RX on 12 and 13, as well as TX on 3 and 11, RX on 12 and 13.
Key Features
- Simulates a Vehicle Gateway DoIP Entity as specified in ISO 13400-2
- Implemented on top of the system-independent Drew Technologies CarDAQ-Plus 2 J2534 v0500 network stack.
- Supports all three formats of DoIP Vehicle Identification Request and Response messages.
- Supports DoIP Routing Activation Request/Response messages.
- Support DoIP Alive Check Request/Response messages.Supports DoIP Diagnostic Power Mode Request/Response messages.
- Supports data and information transfer through DoIP Diagnostic Messages.
- Allows socket and inactivity timers to be disabled/enabled on the fly. Displays and logs all DoIP connection attempts and messages.
- DoIP Gateway's IP endpoint can be set to any valid IP and port combination.Comprehensive in-app and file-backed logging.
- Allows up to five concurrent DoIP clients to be connected to a single DoIP Gateway.
- Supports ISO15765 over DoIP for retrieval of PIDs (an upcoming update will allow custom PID offsets, lengths, and values).
- Validates all DoIP messages for correctness and NACKs/closes the connection as required by ISO 13400-2 when invalid message is received.
- Allows the logical address of the DoIP Gateway to be changed to any valid value.
- Makes pin selection easy – choose between two common sets of pins for Ethernet.
Kit includes:
1 CarDAQ-Plus 2 with enabled DoIP Support and SAE J2534 V500 API
1 User license of Drew Technologies' DoIP Simulator software
1 USB security key
Price: $1,995