DiY Cart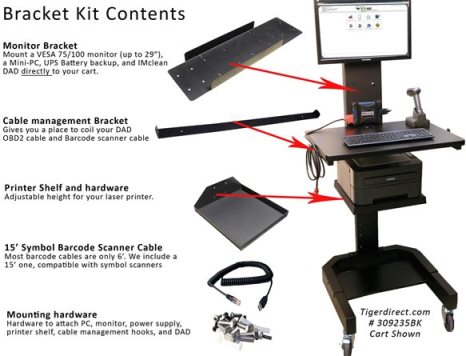 Drew Technologies has put together a kit with all of the hard to find parts you need to make your own DIY Cart system to help you save money and have control. After you purchase our DIY Cart Bracket Kit you can assemble your own system with a computer and common parts found locally or online. Kit converts a standard cart into a specialized workstation using your existing computer (Windows 7 PC or laptop), printer, and monitor. If a part fails, we will replace it locally the same day! We have tested all of the items we suggest below. The user can purchase different items, such as a larger monitor, different PC, or wireless barcode scanner. If you would like more recommendations or have any questions, contact us at sales@drewtech.com.
In the DIY kit, you can purchase the following equipment to assemble your own cart:
Item
Part Number

Price

Link
IMclean

®

DAD Device
IMclean-01
$1,295.00
DIY Cart Bracket
DIY-Bracket
$199.95
22" Monitor (or larger)
Viewsonic VA2246M
$129.99

Amazon.com

APC Battery Backup
APC BE350G
$44.95
Amazon.com
Barcode Scanner
Motorola LI-2208
$107.50
Amazon.com
Laser Printer
Brother HL2230
$125.49
Amazon.com
Windows 7 Micro PC
Asus EB1007P-B001F
$335.42
Amazon.com
Mobile Computer Cart
309235BK
$274.95
globalindustrial.com
Total Investment

(not including shipping)

:
$2,513.25
Drew Technologies has also teamed up with Banalogic for a complete Turn-key package. To see the product page from Banalogic, click HERE.