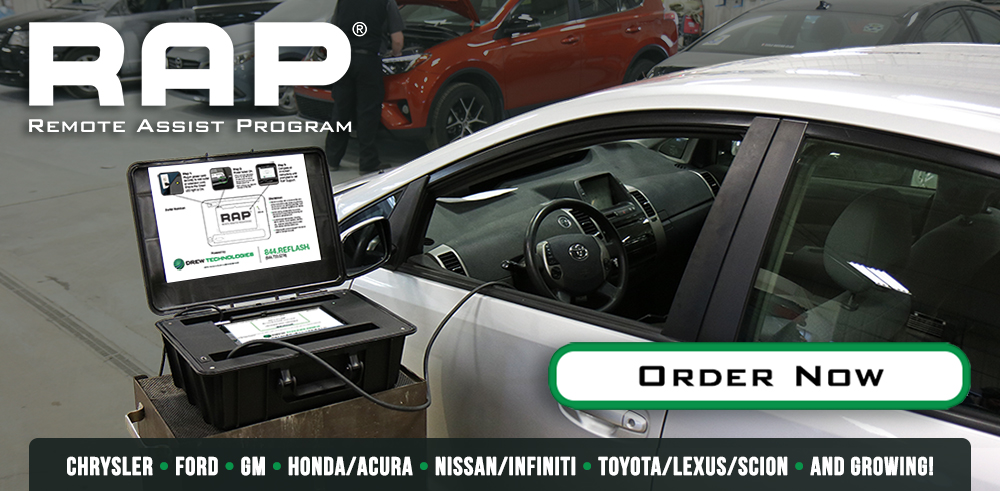 Remote Assist Program
Drew Technologies introduces RAP, designed to assist automotive repair & collision technicians everywhere. Whether you're an Automotive Repair or Collision Shop or Technician, Drew Technologies understands that J2534 Programming may be a difficult task, but we have the solution. We've come up with an easy-to-use approach to help you finish the job correctly, keep the vehicle in your shop, increase profits and customer satisfaction.
For a detailed list of RAP capabilities & cost, click HERE
For our sell sheet on RAP, click HERE
For a video on RAP, click HERE
How does it work? It's simple!
1. Plug-in the kit


The RAP kit includes a Windows PC, J2534 Device, Internet Access Modem, OEM Subscriptions, and Battery Maintainer. It's everything you need packed in an easy to use, all-in-one kit. You no longer need to purchase additional tools, OEM subscriptions, or have the expertise to get the job done.



2. Give us a call


Call our toll-free number to get started.

3. We flash the car
We bring our Support to you! Sit back and relax while we remote into the system. Once you're done, just pack it up for next time. You only pay per service, and success is guaranteed!
RAP Capabilities:
Use the drop-down menu below to see RAP supports your vehicle.
(Please note: If the vehicle does not appear on drop-down menu, it is likely not supported by RAP. DrewTech is always expanding RAP capabilities, please contact us if you have any questions)
For a detailed list of the drop-down menu, click HERE.
RAP Cost:
Price: $0 (just pay per flash!)
Our RAP kit is a service tool we provide to you for FREE you just pay per flash. Currently, we charge $125 per flash
Doe not include shipping. If you do not use your kit more than twice a month, you are only charged a $19.95 inactive fee for that month. We can also check if there a flash available for $40. If the vehicle has an update available and you would like us to do the flash, we will waive that $40 and just charge the normal $125 flash fee! (Please read RAP Customer Agreement for details)
Also available:
Also available are the following Combos for those who want to combine excellence with a complete solution. Our RAP Flash kits are combined with the industry's leading J2534 devices and include 3 FREE flashes. Use RAP Flash and we do the job for you, use CarDAQ and learn how you can do it yourself. It's a winning combination! Click on the links below for more details.

For a copy of the RAP Customer Agreement content, click HERE. (Note: This is copy only, you must fill out the online form to register for RAP)

For more information about RAP, call us toll-free at 844.REFLASH (844.733.5274)
Office hours are 8:30 - 6:30 EST Monday - Friday.